Diaphragm seals
Prochem diaphragm seals (or gauge isolators) are designed to enable standard construction pressure gauges and switches to be used on process lines carrying corrosive chemicals or sludges which would otherwise corrode or clog the sensing instruments. They operate by hydraulically isolating the pressure gauge or switch from the process stream via a diaphragm or sleeve. The seal is prefilled with water or silicon oil.
Chemical diaphragm seals
Chemical diaphragm seals are designed to handle essentially corrosive process fluids and are available in a wide range of engineering plastics and exotic metals to suit most applications. The seals screw directly onto the process line and are normally supplied complete with a range of pressure gauges or a pressure switch. 1/2″ BSP is the standard process connection, plain or screwed union and flange connection are also available options. Pressure gauges are available in diameters of 100 & 63mm. Our standard dry gauges have a  damping mechanism to cushion the needle and eliminate the need for glycerine in the gauge case. Normally closed or open pressure switch option or DIN plug type allowing for wiring normally open or closed. Customers can free issue switches or transducers for Prochem to fit.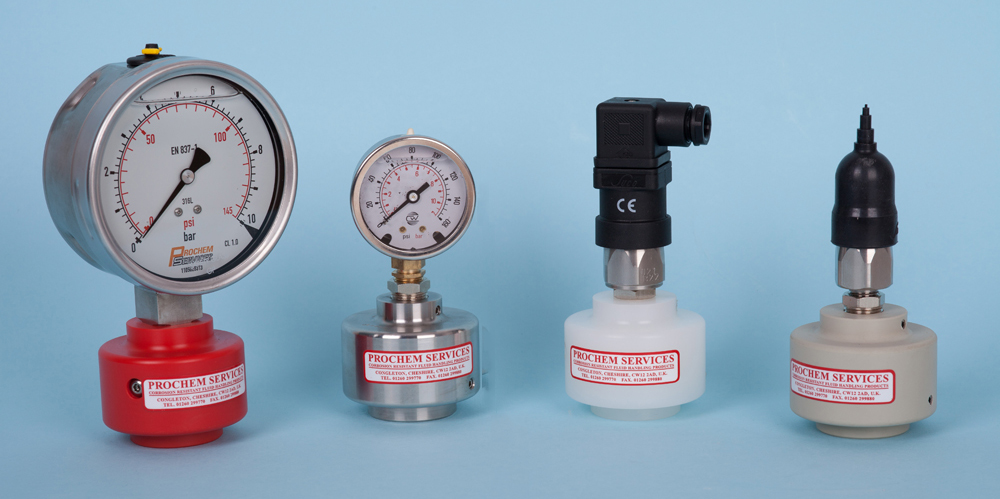 Click here to specify your diaphragm seal
Information required for quotation
Details of fluid to be handled (and flow rate if slurry seal required).
Required pressure range.
Type of seal (chemical or slurry) and if pressure gauge seal or switch type seal required.
If chemical seal what process line connection is required?
If slurry type seal what is main line size and connection type?